Ask Away Friday time again and this week I had the pleasure of meeting the beautiful Tamara from Tamara (like) Camera. She's a professional photographer, blogger, writer and supermum who loves sun dresses and moose! I wasn't sure of the moose attraction at first but I'm starting to see their cuteness now. What I loved about browsing around Tamara's blog, are the amazing photographs that accompany every post. She's a blogger who really cares about her followers and answers every one of the hundreds of comments she gets. If you haven't already visited her blog, you must take a look.
Do you fancy joining in Ask Away Friday? It's fun, easy to do and a way of discovering new bloggers. Just swap ten questions with your blogger then post your answers on your own blog. To know how to join in, just meet and greet our lovely hosts: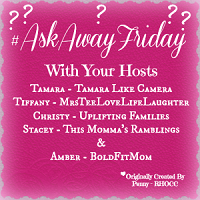 Tamara from Tamara Like Camera,
Tiffany from Mrs Tee Love Life Laughter,
Christy from Uplifting Families,
Stacey from This Momma's Ramblings
Amber from Bold Fit Mom
So here are my answers to Tamara's questions:
1. I like to team up with FTSF (Finish the Sentence Friday) every now and then. The prompt this week is, "I thought I was going to die when…"
I thought I was going to die (of embarrassment) when… I walked through the centre of town in my brand new dress feeling amazing. People around were smiling at me and I even got a wolf whistle. It was only later when a kind old lady stopped me to let me know my dress was tucked in my knickers, that I realised the reason for all the attention. I slunk away red-faced and never did wear that dress again.
2. I read your "About Sylva Fae" section on your blog. One thing I love to do in my blog is tell outrageous job stories. I think I really need to hear one of yours, based on your jobs!
I had a summer job at Durrell Wildlife Park in Jersey, documenting the cotton top tamarins – so cute! We all had walkie talkies and would be called upon to quickly jump into action when there was an escapee. The funniest was losing a mob of wallabies then spotting bouncing wallaby heads popping up behind the hedge along the road. Have you ever tried herding escaping wallabies? One bounce forward and three bounces back, stop for a good look round then suddenly skitter all over the place. We could probably have got them back quicker if we hadn't been laughing hysterically.
My favourite job title has got to be when I was a 'Wench' at an adventure park called Camelot. I dressed the part and face painted hundreds of sticky children. The highlight was when the princess phoned in sick and I got promoted for the day. I caused a Camelot scandal by offering my lace handkerchief to the Black Knight at the jousting match – well, he was much more handsome than the prince (and he had a motorbike!)
3. How did you come up with the beautiful names of your children?
We were at a country fair, my mum had been hinting about wanting a grandchild for a while and bought me a baby names book from a stall. We sat in the sunshine, randomly picking names till we came to Scarlett. Instantly we all loved it. A year later when we found out we were expecting a girl, the name Scarlett was still favourite. My husband chose her second name Olivia.
With my second, I searched and searched through lists of baby names. Suddenly Sienna stood out. My dad loved Italy so I liked the Italian connection – a little subtle tribute to my dad. We also realised we had two S names and both colours which was ideal with an artist mum.
Then we discovered we were expecting a third girl. We had inadvertently created a theme, should we find another S colour? I spent most of my pregnancy in the woods so my husband came up with Sylva. It satisfied the S theme and sounds like a colour, but more importantly it means 'child of the woodlands.' So we have Scarlett Olivia, Sienna May and little Sylva Rose.
4. Do you love Doctor Who like I do? What is your favorite show?
I loved Doctor Who as a child, the Doctor at the time was Tom Baker and I was allowed to stay up late to watch it. I say watch but it mainly consisted of hiding behind a cushion. I was terrified of Daleks! I lost interest when the Doctor changed to Sylvester McCoy. Maybe I'll get back into watching it with my children when they're a little older.
5. What is your favorite animal? Mine is the moose!
I love pigs, their intelligence and sense of humour but they're also incredibly cute. We had a Vietnamese pot bellied pig when we lived on the farm. He was a free range piggy who loved to round up the animals or go playing with the local children in the field. On a couple of occasions he ranged too far and we got a call to come and remove the 'miniature rhino' who was terrorising the golfers! He did have one embarrassing habit though, he was amorously attached to a large log and liked to perform to an audience! One summer my dad chopped his log up but unfortunately he just switched his affections to the wheelie bin.
6. If I came to visit you (which would be fun!) would what we do together?
I'd take you and the family out to our little woodland for a day. Our husbands could wander off and bond making camp fires and doing 'man things' with axes! Our children could get mucky in the mud kitchen and play on the woodland playground my husband made, while we wander through the trees taking photographs of the bluebells. Then we'd take the children for a picnic in our magic clover patch and hunt for lucky four leaf clovers. We'd let them tire themselves out running round the secret field, then head back to camp taking photos of the sun setting through the trees. Tired and content, we'd snuggle around the camp fire with a warming bowl of stew and toasted marshmallows.
7. How did you find yourself as a blogger? Was it surprising, or a goal/dream of yours?
I write stories for my children and I have a dream that one day they may be published. It was author Lesley Hayes who recommended doing a blog after we became friends on Twitter; she gave me lots of great advice. My husband created my blog for me as a birthday present this year and I love it!
8. What blog post(s) were you most afraid to publish, but did anyway?
My first few. It was just the apprehension of my writing going public and wondering if anyone would read it or like it. For the first few posts my husband was the one to publish them as I was too scared to click the button. I love it now though.
9. What's a dream vacation you can't wait to take with your family?
My girls keep asking to go to Disneyland. I went when I was younger but I'd love to go back and see the magic through their eyes.
10. What book have you re-read the most?
I think it would probably be one of the Enid Blyton books from my childhood. I loved the Adventure series, The Secret Seven and the Faraway Tree trilogy. I read these many times over and now I'm excited to share them with my children.
I recently got involved with an initiative to celebrate the power of the picture book. It was set up by author Michelle Eastman and is a lovely way to share our favourite books and also donate books to children. If you want to get involved all the information is in my #PBPiO post.